Shark Cage Diving in Gansbaai
Come dive with the pioneers of the industry
Small, Exclusive, Educational trips
WE CARE | PROTECT | EDUCATE
ABOUT YOUR EXPERIENCE WITH US
" SMALL, EXCLUSIVE AND INFORMATIVE SHARK DIVING TRIPS "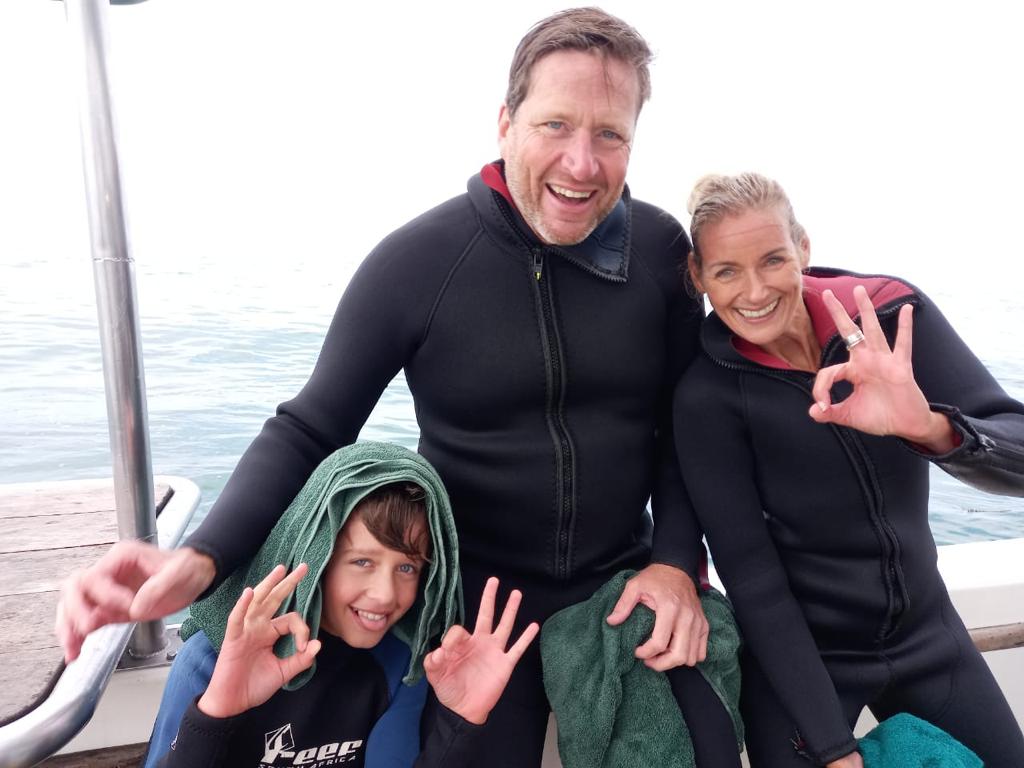 Sharklady Adventures offers small exclusive shark cage diving trips and educational tours twice daily. This means that the trip is more informative AND you'll have more time in the cage.
We're committed to being responsible and eco-friendly. We do not interfere with the sharks and we do not pollute the environment. Sharklady Adventures complies with the strictest code of conduct and safety for our clients, our boat, and the great white sharks, as laid down by local Marine & Coastal Management.
We are dedicated to creating awareness of Great White Sharks through education, especially to the local children who are the future of our country.
The shark cage diving in Gansbaai is an awesome experience from both above and below the surface. Getting up close to this apex predator leaves you feeling exhilarated to say the least! Book your shark diving trip with us, and get to know the Great White Shark a bit better.
WHAT YOU CAN EXPECT FROM US
We are committed to being a responsible and eco-friendly operation that offers small, exclusive White Shark diving trips and educational tours. This means that the trip is more informative AND guests have more time in the cage.
We offer cage diving & surface viewing trips twice daily. Surface viewing for non-divers is excellent from the boat. No diving experience necessary for breath hold diving.
Breakfast and light lunch included. All diving equipment supplied. Tour is +/-4 hours. Sharklady Adventures crew are all well trained and experienced on the sea, and qualified.
Check out our FAQ section – most of your questions will be answered there 🙂
Responsible & Eco-friendly
Excellent Gear & Facilities
OUR MOTTO
CARE | PROTECT | EDUCATE
CARE
We care because we are privileged to enjoy a large number of marine species along our coastline.
PROTECT
We protect so as to conserve and keep our marine resources and species alive for future generations to appreciate as well.
EDUCATE
We educate our youth as they are our future and only hope in saving our magnificent yet fragile planet.
WHAT WE STAND BY
OUR MISSION STATEMENT
Owing to massive negative media publicity over the years, the Great White Shark has become one of the most maligned, misunderstood, even hated animals on our fragile planet.
It has been pursued, hunted and indiscriminately killed, over the years, to the point where its continued existence hangs in precarious balance.
If we can dispel some of the hype and myth, and the fear which surrounds this magnificent creature, and even if through our operation, we only introduce some element of objective perspective to the people that we come into contact with, then we have, at least, made some contribution to maintaining the natural balance in at least one ecosystem, in our communal home, Earth.

Our trip
Find out more
about the trip
YOU MIGHT HAVE SOME QUESTIONS:

WE CAN HELP YOU WITH THAT BUCKET LIST ITEM!
We've been in business for 30 years, and pioneered shark cage diving in South Africa.
You can enjoy being up close and personal with Great White sharks and Copper sharks. Make your holiday a memorable experience with us!
Unforgettable
wildlife encounter
Get UP CLOSE and PERSONAL with marine wildlife!
Stingrays, sevengill cow sharks, seals, seabirds, and more can be seen!