we care   
|

   protect   

|

   educate
Kim Sharklady has been operating since 1992 (21 years). We have a 100% safety record.  She was involved with extensive research Programmes with Great Whites, and was one of the first to Tag Great Whites in South Africa.
Sharklady Adventures was founded by Kim 'Sharklady' MacLean in 2001 with her passion for Great White Sharks and her dedication to care, protect and educate people about them. The company has thus always initiated and participated in educational and conservation projects within the community.
2011 was an iconic year for Sharklady Adventures and the shark cage diving industry. The first permanent official 5 year permits were issued by the Department of Environmental Affairs. Previously permits were allocated according to an exemption system from year to year. The industry has grown into a professional industry and collectively established the Great White Shark Protection Foundation. Kim is the Chairperson of the foundation and has a direct communication to Government representing the Industry and Research issues.
Sharklady Adventures is proud to be a part of this industry and looks forward to  another 20 years of dedication to the Great White Sharks.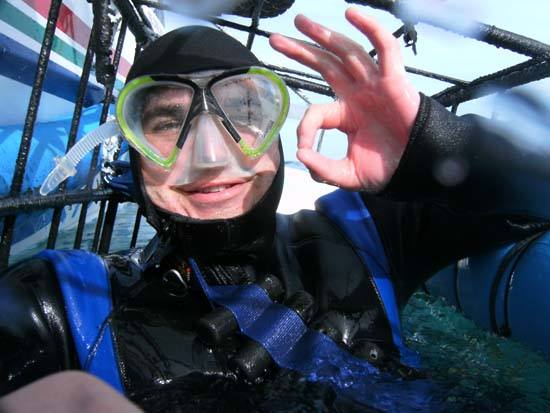 Your Adventure Starts Here
Book your Shark Cage diving trip with us
We are committed to being a responsible and eco-friendly operation that offers  small, exclusive White Shark diving trips and educational tours. This means that the trip is more informative AND guests have more time in the cage.
We offer cage diving & surface viewing trips twice daily. Surface viewing for non-divers is excellent from the boat. No diving experience necessary for breath hold diving. Breakfast and light lunch included. All diving equipment supplied. Tour is +/-4 hours.
Sharklady Adventures crew are all well trained and experienced on the sea, and qualified. There is a Marine Biologist on board along with Kim.