we care   
|

   protect   

|

   educate
MEET KIM MACLEAN "THE SHARKLADY"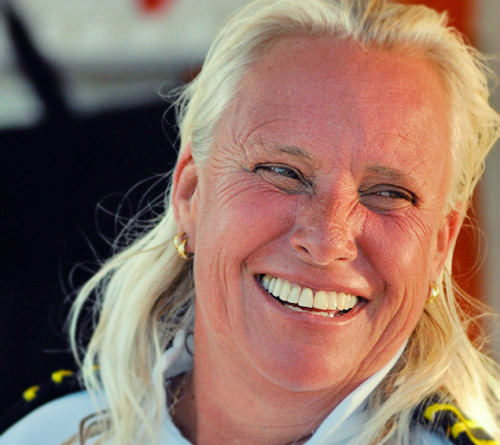 In life, we come across many different people during our journey. We are after all, different threads interwoven in the fabric of life. Yet sometimes, just sometimes…we have the good fortune of meeting someone extraordinary. Someone whose passion, dedication and beliefs set them apart, someone who strives tirelessly to educate and create awareness of creatures who cannot speak for themselves. Someone who has made a difference to the lives of a much maligned and misunderstood animal, the great white shark, and has dedicated her life to changing misconceptions and garnering respect for this beautiful apex predator…that someone is the Sharklady, Kim Maclean.
The towns of the Gansbaai, Kleinbaai and Hermanus and the marine creatures swimming in the waters off their coast are very fortunate to have her in their midst.
Kim Maclean, the Sharklady, has been passionate about sharks and other marine creatures since a very early age. After matriculating at Cape Town High School in 1978, Kim applied to the Department of Sea Fisheries and was accepted as a technical assistant in various sections including demersal, pelagic and southern oceans.
Kim was the first woman allowed to join the research teams at sea for the Department of Fisheries, who had until then had not allowed women at sea. Kim did so well that she was regularly sent on research missions for the department, including several to the Antarctic and a highlight was when she was chosen to go to Marion Island on the maiden voyage of the Sea Fisheries' new boat, The Africana.
After six years of service with Sea Fisheries, where she qualified as a technical assistant in oceanography, Kim had the opportunity of working with Dr Leonard Compagno at the South African Museum, assisting with research on great white sharks where she remained for two years until moving on to work with the White Shark Research Project tagging great whites.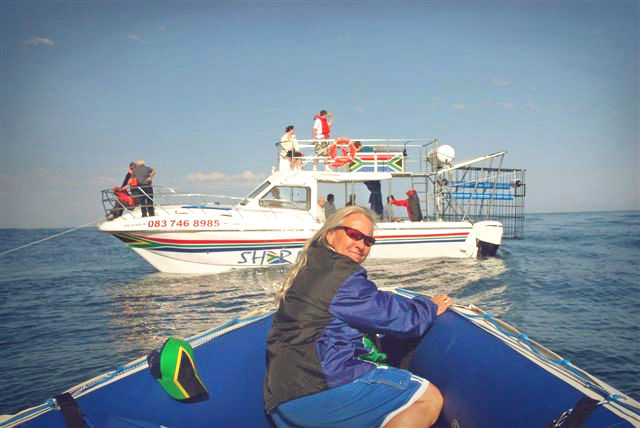 The research work had a life changing effect on Kim's life as it gave her new insight and understanding of these incredibly beautiful creatures, who are generally very misunderstood. Kim realized that she had to teach and inform the public the truth and purpose of the great white shark in the marine eco system.
When the new and world renowned Two Oceans Aquariums on Cape Town's Waterfront was in its planning stage, Kim was chosen out of 350 applicants as an aquarist and collections diver. During this time she completed the difficult scientific class IV diving course and assisted in collecting a plethora of different species of fish including ragged tooth sharks.
Kim Maclean became the best qualified cage diving pioneer in South Africa by qualifying as:
Skipper
Rescue Diver
Level three first aid
Radio Operator
Oxygen provider
Scientific Class IV diver
Safety at sea and raft proficiency
Fire fighting certificate
Western Cape tourist guide
Specialist underwater guide
In 1992, Kim's life long dream became a reality when she pioneered white shark cage diving and surface viewing in South Africa, founding her successful and very popular shark diving company, Sharklady Adventures. Sharklady Adventures has an absolutely fantastic reputation throughout the world. Kim, and the Sharklady Adventures team, are arguably the most experienced operators in the industry and to date have taken thousands of tourists out to sea to have the wonderful experience of viewing the magnificent great white shark up close.